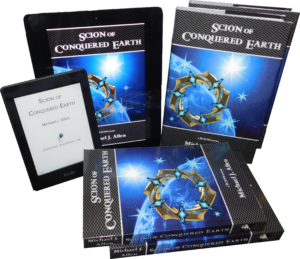 Scion of Conquered Earth (Scion Book 1)
An alien force has descended upon Earth. Fighters bombard the ruins. Monsters hunt the wastes – some humans serving the Welorin in order to indulge their petty cruelties. The last free survivors struggle against starvation and capture. It's a world where friendship costs too dearly and heroics verge on suicide.
Available in Hardback, Paperback and eBook worldwide:

---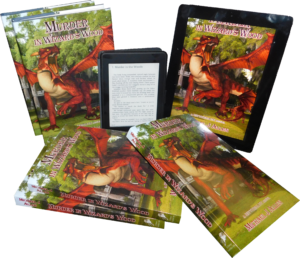 Murder in Wizard's Wood (Bittergate book 1)
For centuries, Southern peanut farmer Jedediah Shine has protected secret preserves of Wild Fey from humanity. He's shielded modern humanity from bloodthirsty Fey. Unknown factions from both are dropping fresh corpses on his lawn, leaving Jedediah holding the body bags.
Available in Hardback, Paperback and eBook worldwide:

---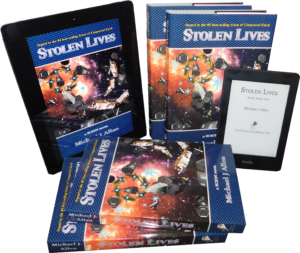 Stolen Lives (Scion Book 2)
Alaric's made a new life in the Protectorate despite his missing memories. His ship's AI, Cassii, and a successful trading venture help fill his accounts with enough credits to finish repairing his ship for a rescue mission to Earth. Or would have, had his heroics not smashed Cassiopeia once more.
Available in Hardback, Paperback and eBook worldwide:

---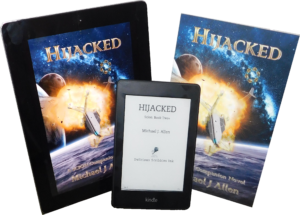 Hijacked (Scion Book 2+)
Manc Shepherd's alive and mad as hedrin. His plan to trap Alaric backfired, nearly costing his life. His backup ambush failed. The kid's in the wind and Corollas want Manc for the death of Birak and Strepe—the Bishop's enforcers. Everything he's done to attain a position within the Corollas upper echelon has been blasted to ashes, but Manc's not willing to give up his vendetta against the Bishop.
Available in Paperback and eBook worldwide:

---
The Wizard's Bane (Bittergate Book 2)
Velith'Seravin and his Wizard's Bane are on the warpath. Their ranks swell, drawing discontent recruits from many of the Fey communities. Quadruplet faun sorceresses embolden a daring raid, capturing the powerful necromancer Mauve. With arcane and shaman magic helping apprehend and execute wizards worldwide, Velith'Seravin courts full-scale Fey War by abducting dragonlings fostered by the wizards slain. Unbeknownst to him, his sorceresses owe the Namhaid wizard, Zero, for their enhanced powers.