Adult contemporary fantasy adventure.
Magic, moonshine and mercenaries fill a world of bad blood and bitter feuds. Families are torn by lines of power and secrets Magic doesn't want known. Join 400 year old peanut farmer and wizard Jedediah Shine as he defends humanity and the Fey from one another while both leave murders on his doorstep. Its a world of dragons and elves, centaurs and pixies where youth is a key-turn away and ultimate power is guarded by a simple deed.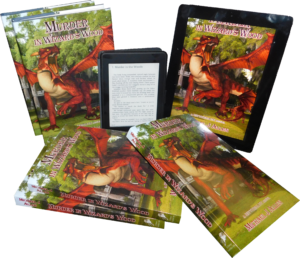 Murder in Wizard's Wood (Book 1)
For centuries, Southern peanut farmer Jedediah Shine has protected secret preserves of Wild Fey from humanity. He's shielded modern humanity from bloodthirsty Fey. Unknown factions from both are dropping fresh corpses on his lawn, leaving Jedediah holding the body bags.
Available in Hardback, Paperback and eBook worldwide:

---
The Wizard's Bane (Book 2)
Velith'Seravin and his Wizard's Bane are on the warpath. Their ranks swell, drawing discontent recruits from many of the Fey communities. Quadruplet faun sorceresses embolden a daring raid, capturing the powerful necromancer Mauve. With arcane and shaman magic helping apprehend and execute wizards worldwide, Velith'Seravin courts full-scale Fey War by abducting dragonlings fostered by the wizards slain. Unbeknownst to him, his sorceresses owe the Namhaid wizard, Zero, for their enhanced powers.
Available in Hardback, Paperback and eBook worldwide: