This last weekend marked a huge number of firsts for me. I enjoyed my first trip to #JordanCon with, as many of you know, pre-release copies of Scion of Conquered Earth. My convention experience up until this was limited to very few huge cons. JordanCon offered what was later described to me as  Deep South Fandom convention feel.
The weekend started with an enormously helpful conversation with author Jana Oliver and a gift of her book: Socially Engaged: The Author's Guide to Social Media. I never cease to be amazed by the wonderful people senior authors are, especially to the up and coming.  In that same vein, when I told Brandon Sanderson how honored I'd be if he accepted a gift in thanks for writing instruction, inspiration and a lot of good stories, he insisted he was the one honored. He even asked that I autograph (my very first) the first edition hardback of Scion of Conquered Earth. The Sword & Sorcery track director, Tiffany Franklin, took pictures of what for me will always be a historic event.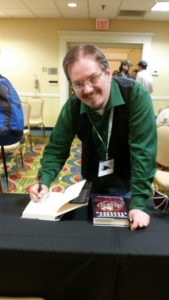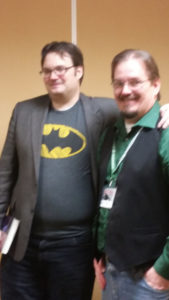 (Special thanks to Tiffany Franklin for taking these)
As if the first day weren't good enough, Saturday brought me back into the presence of esteemed author and publisher Debra Dixon. Deb gave permission for me to advertise the Anthony Francis's The Skindancer Series in my upcoming novel. When I tried to thank her, she expressed an interest in that status of my western-style fantasy Fey West. Her apparent interest was noticed by the Writing Track director, apparently qualifying me for a possible shot at guest status at next years JordanCon.
*Short pause for dance of joy*
Sunday trumped its predecessors. After a humbling attempt in a pitch critique workshop, I got the chance to approach a real New York literary agent (fingers crossed for yet another first) about possible representation. Miss Franklin then invited me to take a seat on my very first panel as a published author along side Kaitlin Bevis, author of Persephone, The Daughter of Zeus  Series. No one threw chairs or rotten vegetables, so I think I did okay.
All three days were filled without incredible fans, authors and other professionals. I never knew how wonderful small conventions like JordanCon were, but you can bet I'll be hunting them down from now on.